Please note that the Keystone Scholars customer service call center will be closed at 12pm on 11/24 and 11/25-11/26.
The Bright Future Booster is a new program which provides an extra $50 for babies born between January 1 and June 30, 2021 to moms enrolled in WIC at the time of the child's birth. Learn more.
Get a Head Start on Education Savings with $100 from Keystone Scholars!
Keystone Scholars is available for every baby born to a PA family after December 31, 2018!
A child with education savings is three times more likely to enroll in a two- or four-year college and four times more likely to graduate.1
That's why PA Treasury is investing $100 to be used for the baby's future higher education expenses.
New and expectant parents will be able to register for online access approximately 5 months after the child's birth using information from the child's PA state birth certificate.
Who is Eligible?
All babies born to a PA family after December 31, 2018.
Frequently Asked Questions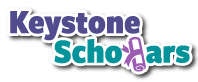 Connect With Us
Phone:
800-440-4000
Email:
Keystone@PA529.com
Keystone Scholars
613 North Drive | Room G-06
Harrisburg, PA 17120