Get a Head Start on Education Savings with $100 from Keystone Scholars!
Statewide registration is available for babies born or due in 2019!
A baby with education savings at birth is more likely to pursue and complete some form of education after high school.1
That's why PA Treasury is investing $100 for every baby born or adopted in 2019 to be used for the baby's future higher education expenses.* New and expecting parents can pre-register today!
New and expecting parents will be able to register for online access within 3-4 months after the child's birth using information from your child's PA state birth certificate.
*As part of a demonstration project, babies born in 2018 in six counties may also be eligible, but must claim their Keystone Scholars grant by the child's first birthday.
Who is Eligible?
All babies born or adopted after December 31, 2018.
Babies born in 2018 to families who resided in one of six pilot counties.
Frequently Asked Questions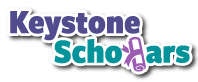 Connect With Us
Phone:
800-440-4000
Email:
Keystone@PA529.com
Keystone Scholars
613 North Drive | Room G-06
Harrisburg, PA 17120