The Bright Future Booster is a new program which provides an extra $50 for babies born between January 1 and June 30, 2021 to moms enrolled in WIC at the time of the child's birth. Learn more.
Get a Head Start on Education Savings with $100 from Keystone Scholars!
Keystone Scholars is available for every baby born to a PA family after December 31, 2018!
A child with education savings is three times more likely to enroll in a two- or four-year college and four times more likely to graduate.1
That's why PA Treasury is investing $100 to be used for the baby's future higher education expenses.
New and expectant parents will be able to register for online access approximately 5 months after the child's birth using information from the child's PA state birth certificate.
Who is Eligible?
All babies born to a PA family after December 31, 2018.
Frequently Asked Questions
Pilot Demonstration Project
1 Elliott, W., Song, H-a, & Nam, I. (2013). Small-dollar children's saving accounts and children's college outcomes by income level. Children and Youth Services Review, 35 (2013), p. 560-571.
2 Cook, et al., 1996 in Elliott III, W., & Beverly, S. G. (2011). The role of savings and wealth in reducing 'wilt' between expectations and college attendance. Journal of Children and Poverty, 17(2), 165-185.
3 Huang, J., Sherraden, M., & Purnell, J. Q. (2014). Impacts of Child Development Accounts on maternal depressive symptoms: Evidence from a randomized statewide policy experiment. Social Science & Medicine, 112, 30-38; Huang, J., Beverly, S. G., Kim, Y., Clancy, M. M., & Sherraden, M. (2019). Exploring a model for integrating Child Development Accounts with social services for vulnerable families. Journal of Consumer Affairs, 53(3), 770–795.
4 Assuming a 6% annual rate of return.
5 The Keystone Scholars legislation has been lauded by experts as a model for other states. See Clancy, M. M., Sherraden, M., & Beverly, S. G. (2019, November). Child Development Accounts at Scale: Sample State Legislation (CSD Policy Summary No. 19-46). St. Louis, MO: Washington University, Center for Social Development. https://doi.org/10.7936/cptg-2n77.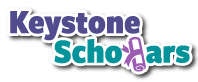 Connect With Us
Phone:
800-440-4000
Email:
Keystone@PA529.com
Keystone Scholars
613 North Drive | Room G-06
Harrisburg, PA 17120